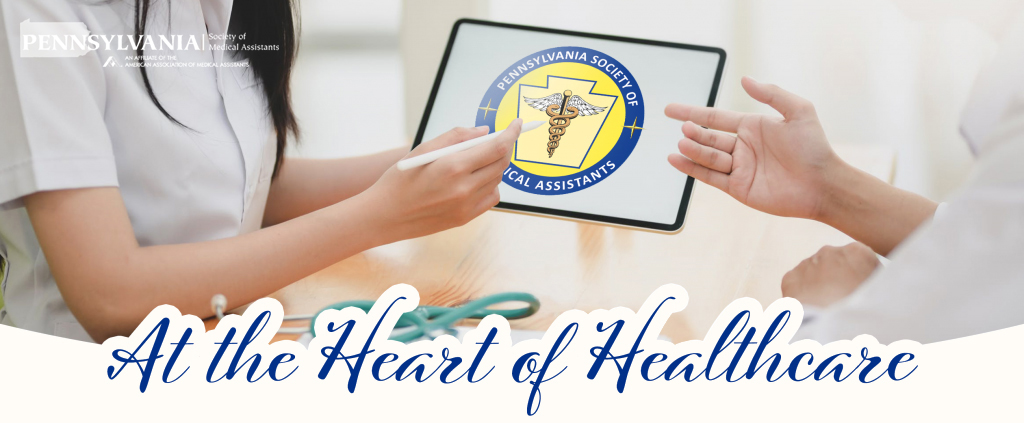 Welcome to the official site of the Pennsylvania Society of Medical Assistants. We hope that we can provide you with helpful information regarding our state wide organization. Our site is continuously being updated to contain current information regarding our state society to better help you so please visit on a regular basis.
The Pennsylvania Society of Medical Assistants is an affiliate of the American Association of Medical Assistants. Our national organization website can be accessed at www.aama-ntl.org.
In the specialized world of health care, one versatile professional stands out. The Certified Medical Assistant CMA (AAMA) Medical Assistants are multi-skilled practitioners who perform a wide range of roles in physicians' offices and other health care settings. They are proficient in a multitude of administrative and clinical tasks, and are widely viewed by doctors as vital partners in increasing medical office productivity.
PA SOCIETY OF MEDICAL ASSISTANTS GENERAL ASSEMBLY
The Pennsylvania Society of Medical Assistants conducts its annual conferance as a General Assembly. All active state members who attend the General Assembly session have a vote! We encourage all of you to attend. Stay tuned to our News & Events tab for more details and information as it is received.


The Pennsylvania Society of Medical Assistants is committed to providing a website that is accessible to the widest possible audience, regardless of technology or ability. Our website is ADA compliant and we strive to keep all our users accessible. Visit our accessibility page for more information.